"Flat Chested Girl From Maynardville" by Bobby Bare Jr.
Click here for the song!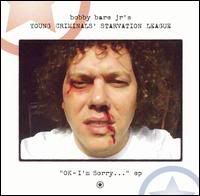 The very first song I ever heard by Bobby Bare Jr. was the live recording of "Flat Chested Girl From Maynardville" from his EP
Ok, I'm Sorry
with the Young Criminals Starvation League. My dad was playing the record in the car. I was working for
Bloodshot
, and although very ignorant in most of the music, eager to learn more about it. Dad had skipped over the first track, a cover of "I'd Like to Teach the World to Sing", you know, that one frightfully cotton candy sweet song that was bastardized for a Coca-Cola commercial. Then "Flat Chested Girl From Maynardville" began to play…it starts out soft…simply an electric guitar at first…and then blossoms into the tragic tale of a teenage girl living through adolescence. She experiences it all: hating her parents, hating the world, feeling like a stranger in her own body, wondering if anyone can even see her, not seeing a light at the end of the tunnel and trying to find a way out. Bare Jr. tells the story with such passion and pain in his voice and lyrics that you would think that he had once been an awkward teenage girl himself. After the lyrical half of the song is done, the Young Criminals Starvation League explodes into an instrumental frenzy that makes you really wonder what happened next to the Flat Chested Girl From Maynardville. The intensity with which these musicians play truly absorbs me. I know that every time I listen to it, I feel the urge to stand on my bed and scream to the walls, the mirror, even to the sheets on my bed about my hopes and dreams, my fears and rage, to throw things and jump up and down, but in a way that, somehow, no one would know I was there.
So, that's this week's musing on the arts. Stay tuned for next week when I ramble aimlessly about something else!